RotK EE STILL ISN'T HERE, so I went out and rented it because the mail doesn't come on Sunday. I was amazed that Blockbuster still had two copies left. And I didn't have to wait in a line at all. :D

Now we'll have plenty of time to watch it and savor it tomorrow, since for once we have a free Sunday afternoon. Ahh, bliss...

How did I keep myself from watching it as soon as I got within range of a DVD player? I don't know. Maybe because I've waited so long already that a little longer won't matter. And since I have waited this long, my first viewing had better be freakin' good. And also because.... well, this is IT. At least right now, I still have something to anticipate. After this one, it's over.

Well, until The Hobbit, that is. ;)

EE spoiler reviews everywhere....10 days till Dec. 14... helllllllp!!!1!!eleventy-one!! *pant* *choke* I'm not gonna make it. x_x Must distract self with HP book 4 and stay off the Internet (yeah right!).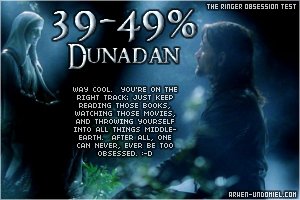 I'm 39.00415% obsessed. How obsessed are you?

The Ringer Obsession Test
*snerk* Check out the "100% obsessed" image... XD
Argh... so it's not enough that my dog destroyed two pairs of earphones. Now he's thrown up on my bed. Actually on my jacket that was
on
the bed, so I had to wash the jacket
and
the comforter. >_<
With all that's been going on today, I found doing the dishes oddly relaxing...